The Township of Washington Police Department would just like to remind everyone that the Winter Weather is upon us!  Please drive carefully and allot more time when traveling this winter season.  This Saturday it is a possibility of up to 4 inches of snow in some parts of New Jersey and this is the first snow of the season.
When snow and/or ice accumulates on your vehicle please remove it before traveling.  It is the law in New Jersey and is heavily enforced during inclement weather.  Motorists who fail to comply may face fines, in accordance with New Jersey Motor Vehicle Statute 39:4-77.1.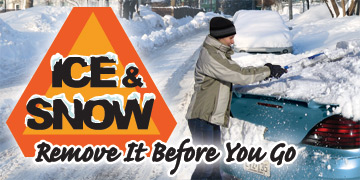 Here are a few tips for Winter Weather driving from the Division of Highway and Traffic Safety and AAA;
-Remove Ice and snow from your vehicle before you leave
-Drive slow, at or below posted speed limit and adjust your speed depending on the road conditions.
-Turn your headlights on and utilize your low beams and fog lights especially when driving in snow (even during daylight hours)
-Increase your following distance.  Travel at least 8-10 seconds behind the car in front of you
-Beware of snowplows and give them room to work.  Please do not tailgate or try to pass.  Snowplow operators have a much more restricted vision during this type of weather.
-If you skid, don't brake or accelerate.  Remove your foot from the gas, gently steer your car in the direction of the skid (Direction the rear of your vehicle is sliding).  When your car starts heading in the desired direction, straighten out the wheel
-Slow down before exiting or entering the highways and be aware that bridges freeze before the roadway and are usually slicker.
If you plan on traveling during this winter season, always have a personal safety kit easily accessible in your vehicle.  It should include such items as an ice scraper/brush, shovel, jumper cables, blanket, flashlight with new batteries, flares/warning device, water and non-perishable food and paper towels.  You should always travel with a cell phone that has a full battery, and travel with a cell phone charger as well.  Always make sure you at least have a ½ tank of gas as well and check up to date weather reports before making a trip.
Stay at home if you do not have to go out during inclement weather.  The safest place is home and off the road!
If you have any questions, never hesitate to contact the Township of Washington Police Desk at 201-664-1140