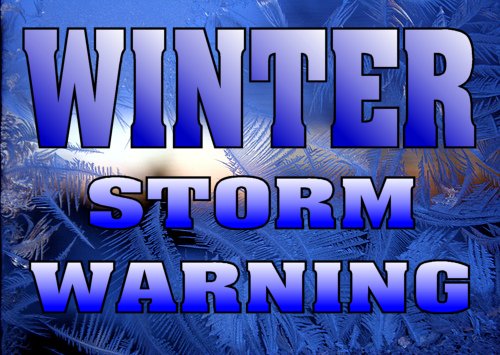 The National Weather Service has issued a Winter Storm Warning for the Township of Washington Sunday January 31, 2021 to Tuesday February 2, 2021.  Heavy snow is expected with possible amounts ranging from 14-18 inches according to forecasters.  Residents can expect anywhere from 0-18 inches!!!!  Winds gusts as high as 45 MPH are expected.  This will be a multi-day storm.  Please do not leave your house unless it is necessary.  The National Weather Service is calling for Blizzard like conditions which will reduce visibility greatly.
If the road is snow covered, please remove your vehicle from the roadway.  According to Township Ordinance 223-28, no person shall park or leave standing a vehicle, whether attended or unattended, on any street in the Township during any snowstorm after the snow has reached a depth of three inches or within 48 hours thereafter.  Please be mindful as the Township of Washington DPW will be out plowing our roadways.
A reminder to all, the Township of Washington does not permit over-night parking on any Township street when it is snow/ice covered or when there is an impending storm.  Permission will not be granted due to inclement weather.  Failure to remove vehicles may result in a ticket and/or a tow.  Having all vehicles off the streets assists the Township of Washington DMF to do their job and assists the first responders as well. 
We would like to remind everyone to clear and remove snow and ice off your vehicle.  It is extremely dangerous driving with snow/ice covering the windows as well as the roof/hood/trunk.  Please remove all snow and ice before you go.  Failure to do so can result in a ticket (NJ Title 39:4-77.1 Failure to remove Ice and Snow from a vehicle).
Below please find some tips to stay safe during a winter storm:
Stay indoors if possible. If you must go outside, wear protective gear, such as hats, mittens, gloves, scarf and a warm coat. 

Avoid overexertion when shoveling heavy snow, pushing a car, or walking in deep snow. 

Watch for signs of frostbite, which include loss of feeling or pale appearance of fingers, toes or face. 

Watch for signs of hypothermia, which include uncontrollable shivering, memory loss, drowsiness and exhaustion. 

Understand the hazards of wind chill. As wind speed increases, heat is carried away from a person's body more rapidly, which could lead to severe hypothermia.

Remove clothing if it gets damp or wet. Wet clothing can make you more prone to hypothermia. 

Weatherproof doors and windows to trap heat inside your home.

Check heating units. Poorly operating or damaged heating units can release carbon monoxide gas. Test carbon monoxide detectors for proper operation and battery life. 

Check on family, friends and neighbors who are at risk and may need additional assistance.

Watch pets closely and keep them indoors when possible. Animals can suffer from hypothermia, frostbite and other cold-weather injuries. 

In addition to being prepared for the winter storm, we want to remind motorists to take extra precautions when stopping and driving in winter weather
If you experience a power outage, please contact PSE&G using one of the following methods below:
 We cannot stress enough, if you do not have to be on the road, please stay home.  The safest place to be during a storm is home!
Please check for updated storm information on our website, Facebook Page, Twitter and Instagram!